I take the idea of "live radio" seriously——even if the live radio is streaming 70s cheese from a different time zone. [rest of thought deleted. Friday evening deleted]
I use twitter, for some reason. I throw links and thoughts onto it throughout the day. It's more pointless than this blog by a factor of 0.3.
I wrote a psychotic gender play and set it to 'private' because I was worried people might think I hated women, or something. When I was ten, I told my mother, "Someday I want to write Mark Leyner-meets-Neil LaBute–style dialogues on the Internet." She just smiled. Just kidding.
I told McMüller I was going to "blog" about this image and he remembered and asked me about it a week or so later. That's tantamount to a "commission."  So:
The cover of the New York Times Book Review from Aug. 20 was this image:
whoops! just cradding! there's a lot of crazy garbage on my "desk-top"! here it is: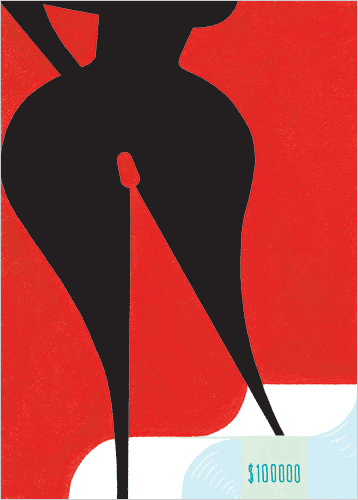 The review was called "Meet, Pay, Love," the book is called HOS, HOOKERS, CALL GIRLS, AND RENT BOYS: Professionals Writing on Life, Love, Money, and Sex. The question: what the fock is depicted here? Clearly we have a female body — I see breasts, legs, an arm, some haunches. It says $100000 on the weird newspaper-roll thing she's standing on. What's happening in her crotch, though????
McMüller was the only/first person of the several "publishing professionals" I asked who didn't make a cop-out or totally insane guess. His answer:
It's an old-timey fountain pen!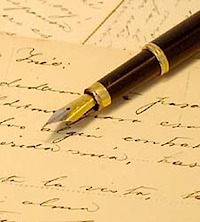 But a pen that's all splay-legged, ready for lovin. On top of a roll of bills.
Wait what am I "blogging" to do what hey
In conclusion, this is an attractive but exceedingly difficult-to-read image.
Back to work….
Kind regards,
Scott McLemee's ersatz ghost-puppy