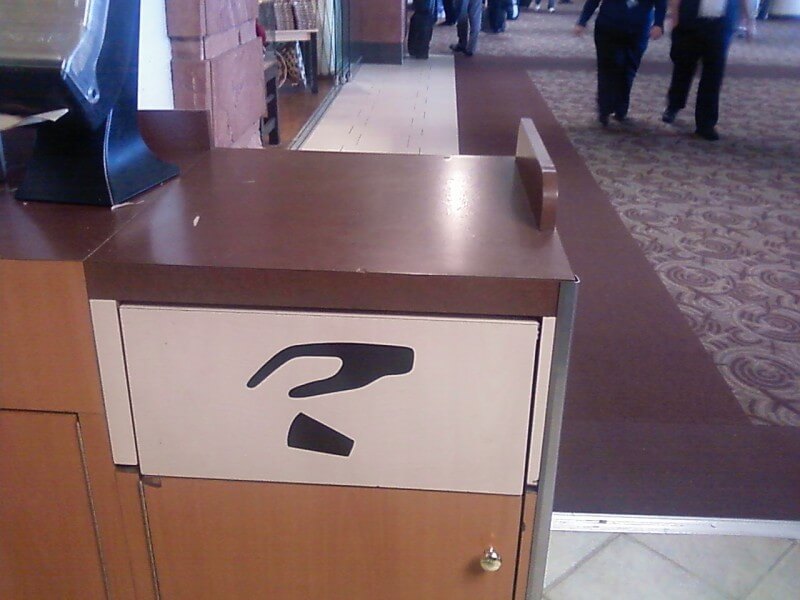 Free Wi-Fi at the Phoenix airport. I'm one of those guys sitting on the floor near an outlet, working on my laptop. Except I don't really look like one of those guys, because I'm unshaven and there's underwear spilling out of my shoulder bag and I'm not wearing a purple short-sleeved polo shirt with a company logo on the breast. Two soldiers in desert camo just sauntered by, at ease but still walking in step with each other. I slept poorly last night so this "text" is going to be awful, not worth your time. Fortunately, it's still worth my time, which is why I'm writing it. Unclear however why it still then needs to go on the internet, aside from the fact that the magnetic attraction that your potential attention asserts on the "language inside me" serves as a fine stimulus to draw it out. Of me. Otherwise I'm lazy and it'll stay inside while I check my email again and again.
My friend met me at the airport in Albuquerque and told me he hadn't eaten even though he'd had a layover in Phoenix because he was boycotting the entire state of Arizona. As I deplaned in Phoenix just now a douchey blonde guy looked through me, aggressively unsympathetic to my humanity, as far as I could tell, only because I wasn't the brother in law he was waiting for. I felt like flipping twin birds at everyone within eyeshot and declaiming, clearly and loudly, "FUCK YOU, PHOENIX, AND EVERYTHING ELSE CONTAINED BY THE STATE OF ARIZONA, INCLUDING ME, AND ALL OF THIS PIZZA. BECAUSE OF YOUR IMMIGRATION POLICIES, I GUESS"
On the plane I read more of the New Yorker 20 under 40 issue. Yesterday, which seems like a long time ago, I wrote this about the Josh Ferris story:
(I'm on a sadness junket in Santa Fe.) I thought "Pilot," Joshua Ferris's story in the 20 under 40 issue of the New Yorker, was great. I haven't read his first novel, which I know is written in first-person plural, but I was very impressed by the narrative control of this new story. It's written in the "close third-person," where the narrative voice is  contained entirely by one consciousness, except it's communicated with a "he" or "she" instead of an "I." Maybe a better term for "Pilot"'s voice is "the clingy third person."
Lawrence is a newly, shakily recovered alcoholic filmmaker who can't believe he's been invited to a fashionable Hollywood party, doesn't want to go, but feels he must for the sake of the TV pilot he's writing. He's desperately insecure and spends most of the story neurotically trying to engage other people, to get the things he needs  without appearing so clingy. The story reads as if it were written in a more conventional third person — "He thought, 'I should get out of here,'" e.g. — but then Lawrence's voice, so strong and desperate and charming, has sort of crawled up inside the third person narrative and infected that voice with its self-obsession and neediness. The result is a pleasure to read. Ferris didn't invent this technique, but he deploys it beautifully.
Who cares about my take on Joshua Ferris's narrative control! I do(n't)! Not sure if this is a journalistically responsible article. Phoenix Airport free Wi-Fi is barely functional. I'm entitled to one full meal for every delayed layover I have, regardless of the hour or Arizona's immigration policy.
The Jonathan Safran Foer story irritated me even as I found parts of it familiar, smart, and…. "original." I think it would be funny to write a novel that marketed itself as "vegetarian fiction." I like the idea that Tao Lin writes "vegan fiction," if if he doesn't market it as such. Foer's "Here We Aren't, So Quickly" is a vegetarian story. Not a lot of meat in it, but  plenty of complex carbohydrates and vegetable proteins. That's a joke, insofar as I don't know what it means and I'm saying it only because I like to.
I can't help reading all of these 20 under 40 stories imagining their authors writing them at the behest of the New Yorker's fiction editors. "Hey, Dinaw, submit a story to the 20 under 40 thing. You have a shot." All fiction everywhere is "by definition" contrived, but these stories are maybe more contrived than usual. For that reason. Which doesn't nec. make them bad. Solicited = contrived, unless the fiction writer responds to the solicitation with a piece of fiction they'd already written but not published, submitting something they wrote uncontrivedly. Which is impossible, because nothing is written uncontrivedly. But there are degrees. The Ferris story is contrived and great. I'm not as crazy about the Foer story. It's my fault that I read it as a second-person half-fictional sexy love note to his wife, novelist Nicole Krauss, and it's my lightweight brain alone that makes me read the "house" he refers to in the last paragraph as their dope brownstone in [specific part of Brooklyn TK]. My bad my bad
The Rivka Galchen story is great. It's narrated by a woman who, like Galchen, has just published a well-received novel. Like the Ferris story, it features an unproduced television pilot. It's also the first instance of an fictional, ekphrastic blog I can think of, there must be more: icantstandmywife.blogspot.com. (As of this writing, no one has yet reserved this blog. Which is surprising. Full disclosure: Phoenix Airport Wi-Fi has officially crapped out so I can't check. I'd be surprised if Galchen didn't reserve it herself. Update: PHX Wi-Fi never resolved, so I'm posting this from California, and of course someone, probably Galchen, reserved the URL. Goodnight)
I skipped the story called "What You Do Out Here, When You're Alone." Rant about this sort of declarative second-person short-story title TK, ad naus. Let me know if you read this story, by Philipp Meyer, and if you think I could've learned something about myself by reading it. If you think the horizons of my limited worldview would've been pushed out a hectare or two. If so, I'll read it.
Yeah right!!!
More misc. notes on this New Yorker, June 14 & 21, 2010: The spread of illos of the writers (p. 90-1) is pointless and unappetizing. There are Q&As online, huh? That sounds good, but then What is the point of printing these straightforward, moody, photo-based line illos??? At least list the names of their favorite newspapers or where they went to elementary school or how many siblings they have alongside their portraits. The Chris Ware cover, on the other hand, and like the Steve Powers illos with the Shteyngart, are wonderful. Something has been beeping off to my left for a few minutes. (I'm sitting at gate A2. Come say hi!! This is a rebroadcast of a previous episode) Reading through  these stories I was occasionally  like, "this is awesome, but when I finally man up and decide to write fiction myself, my fiction is going to be all gnarly and unexpected and different and rad, and a drug-addict teenager in upstate new york is going to read it and decide that [oh my god, sorry, redacted]" but then I read the Gary Shteyngart story, and that thought bubble immediately dissolved, and I realized Ah, shit, this is it, he did it, damn, etc, I am mollified.