I'm in a book club with a whole bunch of pseudonyms: Jeremiah'd, Paulie Groundphones, Li'l Broheim, Shampoosie, et al. Maybe their pseudonyms should be taken from the book we're reading, instead of from the jovial thin air above, since the book is already populated by hundreds of perfectly named minor characters. But I'd want an hour with Hilary Spurling's Invitation to the Dance to produce halfway decent analogues for each of my book club's members. Last night was one of our most rollicking meetings to date: The spirits flowed liberally, and by the time Shampoosie had to leave for her engagement, the atmosphere had (sonically speaking) pleasurably devolved into this sort of vibe:
[youtube=http://www.youtube.com/watch?v=QS0N1WSUQeQ]
I got vague half-permission to record the meeting's minutes here. I was astonished by how much beer I'd been served, and how easily it flowed into my massive gullet. Just before he was shrouded and bundled off to bed, Li'l Broheims, our hosts' beatific infant son, staggered around the cacophony clutching a baguette nearly as tall as he was, grinding fine cheeses and flatbreads into the fine carpet. Maybe a less-hungover observer than I am could turn a nice analogy comparing Li'l Broheims to a drunken British soldier like those depicted in Anthony Powell's Valley of the Bones, the book we'd met to discuss.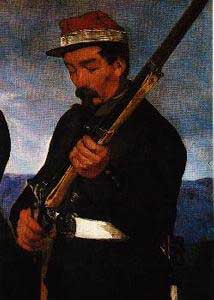 But not this guy. Because I AM TOO HUNGOVER TO DO ANYTHING. Which is all I wanted to say in the first place. So today being a low-volume work day I've just sat here hitting the internet harder than I have in a long time. 9:30 a.m. to 3:30 p.m., I've probably stood up three or four times, once to retrieve a pallet of Thai food from the overpriced (dance-club atmosphered) restaurant next door.
Among the many things I clicked on today, I finally had the chance to read Elif Batuman's review of Mark McGurl's book on the rise of MFA culture, "a study of Planet MFA conducted from Planet PhD." Then I read Molly Young's review of James Franco's debut collection, which in turn linked me back to Batuman's review of the 2004 and 2005 Best American Short Stories. I don't have anything interesting to say about any of these book reviews. In both of Batuman's essays, Joyce Carol Oates comes off as an exception to the rule of timid, tepid, guilt-imprisoned contemporary short fiction. In both essays, Don Quixote is the canonical first novel that successfully performed the literary innovations that four hundred years later are still being called innovations. And in both essays, she urges fiction writers to expunge the guilt and shame in being a contemporary writer in the face of global suffering, to shun the imperatives to write about
(A) nostalgic and historical subjects; (B) external, researched subjects, also sometimes historical; © their own self-loathing; and/or (D) terrible human suffering
[N.B. as a lover and collector of typos, that copyright symbol is about as awesome as it gets—unless it's some kind of metadroll joke I'm too hungover to get?]
[Pointless Full Disclosure: I recently purchased from this writer her "favorite red chair, as well as two lamps, an ottoman, a saucepan, a carpet steam-cleaner, some geranium-scented laundry detergent, and approximately eight pounds of rice." I'm also babysitting her car for a few months, it seems SUPER relevant and important to add. Buying a writer's soap or borrowing her car unfortunately doesn't transmit any of her intelligence to their new owner — although I wonder if some reptilian part of my brain wants to pretend that it does. The same goes of course for adopting a great writer's dog, something I also did with no improvement to my critical faculties. Or, shit, I bet lots of editors, myself included, egoistically and falsely absorb some of the brilliance of a piece they're editing, even if their edits mostly involve the introduction of typos and tautologies. The connection between leading a good life and thinking and writing well — I wonder how big that gap needs to be. It fluctuates. Brilliant assholes; generous buffoons; everyone in between. Eating Elif's rice won't help me think clearly about literature. Neither, apparently, will getting an MFA.]<—– (<("the ghosts of deleted paragraphs rattle their chains from the margins.")>)
[Once I've fully left my job,  I wonder if I'll start writing Tao Lin–style fan fiction about Keith Gessen, or hosting this blog on a domain with my full name on it, etc.]
[What would that last "etc" refer to, I also wonder? Going on the Tao Lin diet? Buying my own car? Moving to Alaska to teach comp at Juneau Community College with Gerhard Richter's Daughters? Starting a weekly jogging club with Benjamin Cheever, Sam Frank, and Haruki Murakami?]
[Please don't make me try to say anything else about anything I've read. Please don't say nasty things about me on the internet. Or about Ariana Reines.]
[Paul Groundphones recently demanded that I read Jacob von Gunten as soon as humanly possible, which I did, and I can't think of a better example of a work of art that's feels simultaneously both "pointless" and essential; that's quite so beautiful in its pointlessness. I love the wry, skillful incompetence of Walser's narrators. I haven't finished the novel yet. I've never read Stendhal.
EXTRA CREDIT:
My novel will read like a press release — for life itself!
What do you guys think about psychoanalysis!
Goodbye!!!!!!