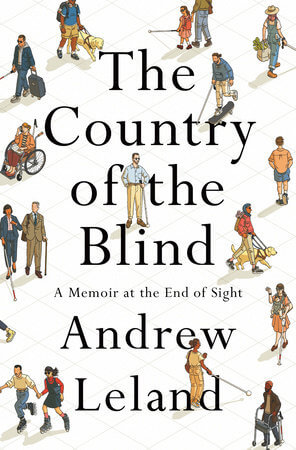 The Country of the Blind was published on July 18, 2023 in the U.S. by Penguin Press. Below is a list of press highlights for the book!
PRINT & ONLINE
Named one of the Top 10 Best Books of 2023 by Publishers Weekly

Longlisted for the 2024 Andrew Carnegie Medal for Excellence in Nonfiction, administered by the American Library Association!
Named by the Washington Post as one of their 50 Notable Works of Nonfiction
Named one of the 20 best biographies and memoirs of the year by Amazon
Milwaukee Journal-Sentinel New Books for Holiday Gifts
Booklist–review, 11/14
The Nation—interview, 9/21
Poets & Writers—New Nonfiction feature on the year's best debut literary nonfiction (one of five authors), Sept/Oct issue
Washington Post—Staff Picks review, 8/25
Slate—review, 8/18
Wall Street Journal—review, 8/11
People Magazine—People Picks Books, 8/7 issue
New York Times—Op-ed: I Have a Choice to Make About My Blindness, 8/5
Nautilus—excerpt, 8/1
IEEE Spectrum—interview, 8/1
BookPage—interview, August issue
BookBrowse—review, 7/28
San Francisco Chronicle—interview, 7/25
Publishers Weekly—Book Pick of the Week, 7/24
Pittsburgh Post Gazette—review, 7/23
New York Times—review, 7/23
Publishers Weekly—10 New Books with Disability Representation for Adults, 7/21
BookPage—review, 7/21
Daily Hampshire Gazette—profile, 7/20
Eater—Essay for series Low and Slow: Disabled People on Food, 7/18
LitHub—new books out today, 7/18
BookRiot—new books out today, 7/18
LitHub—excerpt, 7/18
The New York Times—book mentioned in The Evening Newsletter, 7/17
Boston Globe—profile, 7/17
The Guardian—review, 7/17
New York Times—profile, 7/17
The New Yorker (online)—first serial essay "The Weekend Essay", 7/8
LitHub—Most Anticipated Books of 2023, Part Two, 7/6
The Millions—Most Anticipated: The Great 2023B Book Preview, 7/3
AARP—Summer's top nonfiction books, 6/9
Chicago Tribune—Summer books preview, 6/7 (also ran in Arizona Daily Star, Buffalo News, and more)
Library Journal—review, 6/1
Lithub—25 Nonfiction Books You Need to Read This Summer, 5/25
Publishers Weekly—starred review, 4/24
Kirkus—review, 4/4
Publishers Weekly—Summer Reads Staff Pick, 3/27
RADIO & PODCASTS
Parallel—interview, 9/13
TED How to Be a Better Human—interview, 9/11
Story of the Week with Joel Stein—interview, 9/7
KCRW Press Play with Madeleine Brand—interview, 9/20
LAist AirTalk with Larry Mantle—interview, 8/30
WBEZ Nerdette—Book Club Pick discussion, 8/29
WTF with Marc Maron—interview, 8/24
LARB Radio Hour—interview, 8/18
The Stacks—interview, 8/16
NPR Fresh Air—interview, 8/8
KCRW Life Examined—interview, 8/6
WBEZ Nerdette—interview, 8/1
Search Engine with PJ Vogt—interview, 7/28
WBUR Here & Now—Recommended in interview with Traci Thomas, 7/27
Eyes on Success—interview, 7/26
FSCast 233—interview, 7/26
Living Blindfully—interview, 7/26
99% Invisible—episode on book, 7/25
KQED Forum—interview, 7/21
Radiolab—rebroadcast "The Right Stuff", 7/21
BBC Radio 4 In Touch—books on blindness, 7/18
New England Public Media—interview, 7/18
Kurt Vonnegut Radio—interview, 7/18
The Dave Chang Show—interview, 6/22
TV & VIDEO
NBC New York—Bill Goldstein's book recommendations, 8/27