Becket, MA
6:30 p.m. Sat., September 16
The Dream-Away Reading Series
Facebook invite here
Manhattan, NY
October 3, 12:30-1:30pm
The New School
Wollman Hall, 65 West 11th St, 5th floor
Lang Craft Talk
in conversation with Julie Beth Napolin
in person and on Zoom; register here
October 4, 6pm
NYU / Arthur L. Carter Journalism Institute
7th Floor Atrium
20 Cooper Sq, New York, NY 10003
In conversation with Gideon Lewis-Kraus
Free; non-NYU-affiliated folks register here.
Northampton, MA
Thursday, October 12 at 7pm
The Boutelle-Day Poetry Center
Wright Hall, Smith College
5 Chapin Way
Northampton, MA 01060
in conversation with Dr. Jina B. Kim
Co-sponsored by the Smith College English Dept, Boutelle-Day Poetry Center, & Dis-Organizing. For disability access information or accommodation requests, please call 413-585-2407. To request a sign language interpreter, call 413-585-2071 (voice of TTY) or email [email protected] at least 10 days before the event.
Past events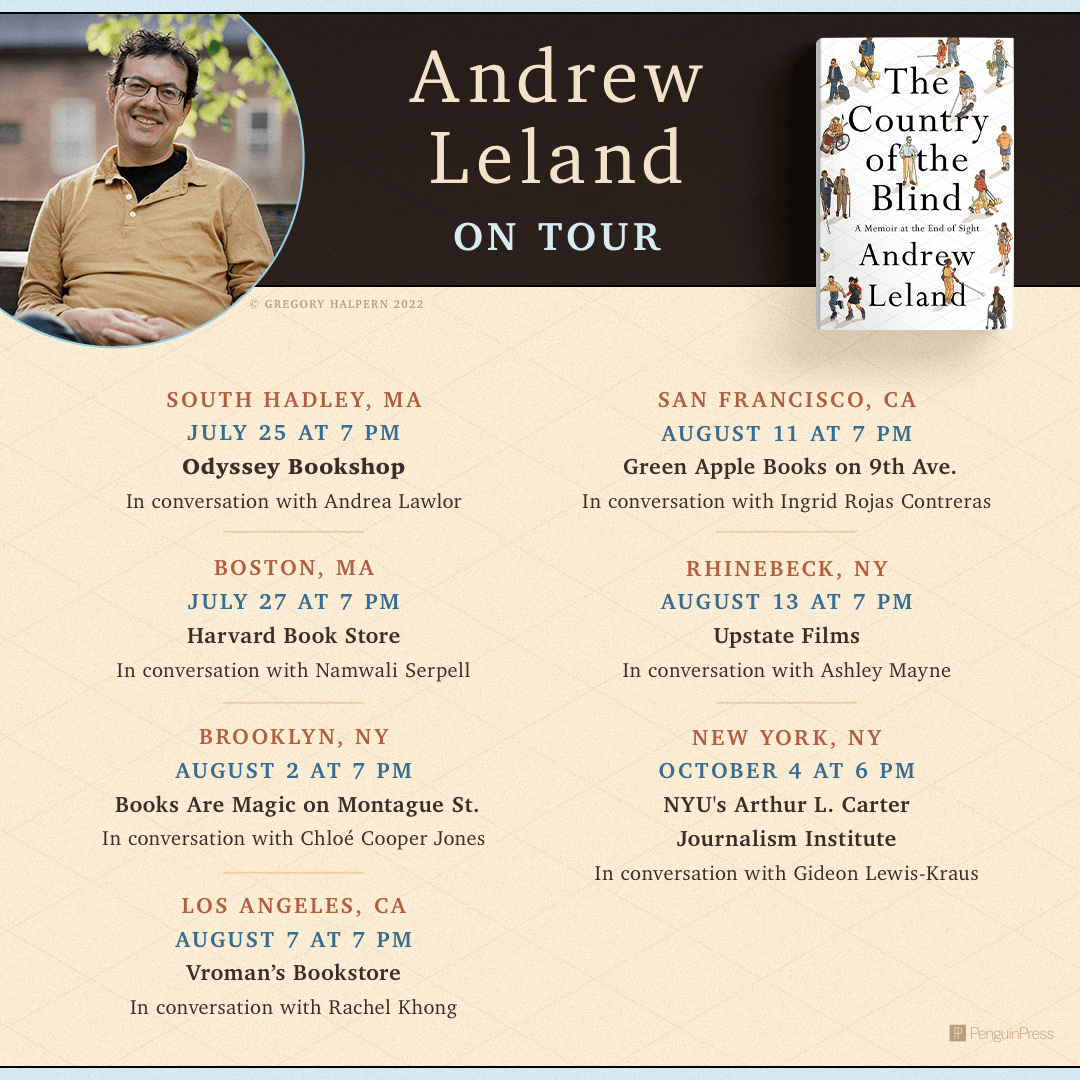 THE COUNTRY OF THE BLIND U.S. BOOK TOUR
South Hadley, MA
July 25 at 7pm
Odyssey Bookshop
9 College Street, South Hadley, MA 01075
In conversation with Andrea Lawlor
Boston, MA
July 27 at 7pm
Harvard Book Store
1256 Massachusetts Avenue, Cambridge, MA 02138
In conversation with Namwali Serpell
Brooklyn, NY
August 2 at 7pm
Books Are Magic [at the new Brooklyn Heights location]
122 Montague Street, Brooklyn, NY 11201
In conversation with Chloé Cooper Jones
Los Angeles, CA
August 7 at 7pm
Vroman's
695 E. Colorado Boulevard, Pasadena, CA 91101
In conversation with Rachel Khong
San Francisco, CA
August 11 at 7pm
Green Apple Books
1231 9th Avenue, San Francisco, CA 94122
In conversation with Ingrid Rojas Contreras
Rhinebeck, NY
August 13 at 7pm
Upstate Films
6415 Montgomery Street, Rhinebeck NY 12572
In conversation with Ashley Mayne